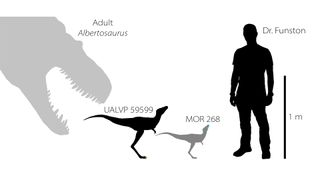 LiveScience has a story about the first baby tyrannosaur ever discovered.  These new fossils, which may be a tyrannosaur embryo, were discovered in Montana in 1983.  They were reexamined due to research into a toe claw of a baby tyrannosaur that was found in Alberta Canada in 2017.
The research, which is not yet published in a peer-reviewed journal, was presented online Tuesday (Oct. 13) at the Society of Vertebrate Paleontology's annual conference, which is virtual this year due to the COVID-19 pandemic. 

The teensy, 1.1-inch-long (2.9 centimeters) tyrannosaur jawbone still sports eight little teeth. Because it was stuck in the surrounding rock, the researchers scanned the jawbone with a particle accelerator, which let them image the fossil without excavating it. Despite the jawbone's miniature size, "it looks surprisingly like other juvenile tyrannosaurid jaws," Funston said. "It has a deep groove on the inside and a distinct chin, which are both features that distinguish tyrannosaurs from other meat-eating dinosaurs."

These features helped convince other paleontologists that the jawbone truly is from a tyrannosaur — "we can know that these features can be used to identify tyrannosaurs no matter how immature they are," Christopher Griffin, a postdoctoral associate in the Department of Earth & Planetary Sciences at Yale University, who wasn't involved with the research but attended the presentation at the conference, told Live Science.