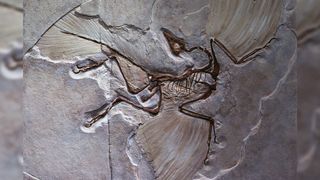 LiveScience has an informative piece about how scientists measure the age of something.  The article mentions radiocarbon dating for more recent organic material and uranium-thorium-lead for older objects.  But, there are other radioactive substances that can also be used, such as potassium-argon.  Check it out if you've been curious how the process works.
The ability to precisely date, or identify the age of an object, can teach us when Earth formed, help reveal past climates and tell us how early humans lived. So how do scientists do it?

 

Radiocarbon dating is the most common method by far, according to experts. This method involves measuring quantities of carbon-14, a radioactive carbon isotope — or version of an atom with a different number of neutrons. Carbon-14 is ubiquitous in the environment. After it forms high up in the atmosphere, plants breathe it in and animals breathe it out, said Thomas Higham, an archaeologist and radiocarbon dating specialist at the University of Oxford in England. 

"Everything that's alive takes it up," Higham told Live Science. 
We don't get to mention math on our website often... to gain an understanding of the math used in the calculations, have a look at "Exponential Growth and Decay" over on mathisfun.com.  They do a great job explaining with some examples. 
By the way, using radiocarbon materials to date things was first discovered by Willard Libby at the University of Chicago in 1946.  The more generic radiometric dating was discovered by Ernest Rutherford in 1905.  The Wikipedia page is also very useful and it mentions many other radioactive sequences.
Radiometric dating, radioactive dating or radioisotope dating is a technique which is used to date materials such as rocks or carbon, in which trace radioactive impurities were selectively incorporated when they were formed. The method compares the abundance of a naturally occurring radioactive isotope within the material to the abundance of its decay products, which form at a known constant rate of decay.[1] The use of radiometric dating was first published in 1907 by Bertram Boltwood[2] and is now the principal source of information about the absolute age of rocks and other geological features, including the age of fossilized life forms or the age of the Earth itself, and can also be used to date a wide range of natural and man-made materials.

Together with stratigraphic principles, radiometric dating methods are used in geochronology to establish the geologic time scale.[3] Among the best-known techniques are radiocarbon dating, potassium–argon dating and uranium–lead dating. By allowing the establishment of geological timescales, it provides a significant source of information about the ages of fossils and the deduced rates of evolutionary change. Radiometric dating is also used to date archaeological materials, including ancient artifacts.

Different methods of radiometric dating vary in the timescale over which they are accurate and the materials to which they can be applied.