This is Mazon Monday post #49.  What's your favorite Mazon Creek fossil?  Tell us at email:esconi.info@gmail.com.
-----------------------------------------------------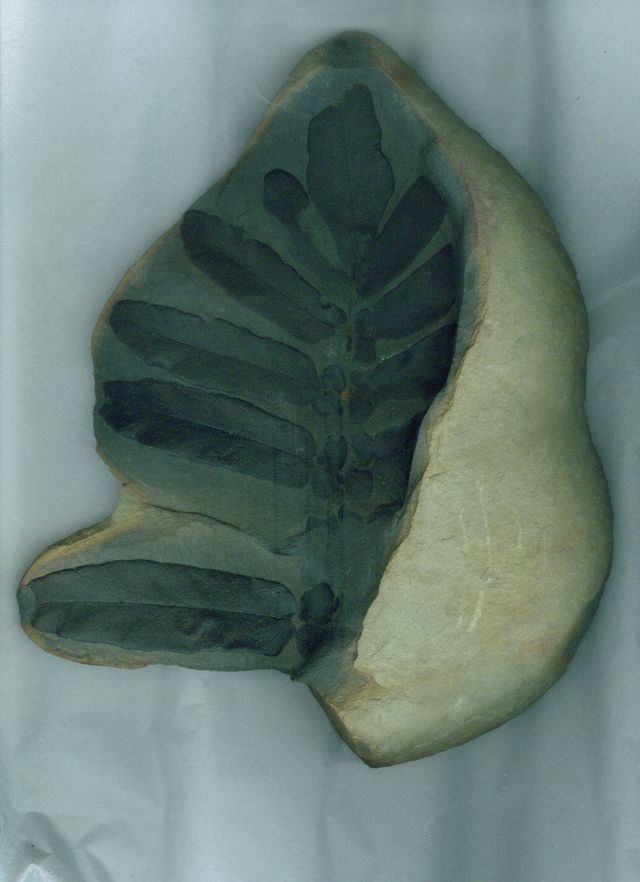 Large terminal pinnae of Macroneuropteris scheuchzeri forma decipens.  Discovered in Pit 6 (formally known as the Dresden Lakes area) by Don and Dorothy Auler.
Since the beginning, amateur fossil collectors have played a huge role in the science and research of Mazon Creek.  Joseph Even, Joseph C. Carr, Samuel S. Strong, and Homer Hill were some of the earliest amateur collectors of Mazon Creek fossils back in the mid 1800's.  They and others did much to popularize the fossils and the locality.  The document used to register the Benson Farm in Morris as a historical landmark has some interesting early historical information.  If you are at all interested in the history of collecting Mazon Creek or the area around Morris, IL, it's a good read.
Unfortunately, the activities of these early Mazon Creek collectors, including local farmers, coal miners and bank presidents, are poorly documented, and their major contribution has been largely forgotten. As a result of their diligence and generosity, however, the Mazon Creek fossil biota was studied by some of the most famous paleontologists of the nineteenth and twentieth century.

The earliest-collected Mazon Creek locality is situated in NE1/4, El/2, NE1/4, Section 24, T. 33 N., R. 7 E., Wauponsee Township, on the farm southeast of Morris first settled by Seneca Benson in 1830. The Benson farm site was probably first explored for fossils in 1857 by Joseph Even, an amateur collector typical of the nineteenth-century gentleman naturalists. 8 Even, who was born August 18, 1825, in Luxembourg, emigrated to the United States in 1854.9 Settling in Morris, Grundy County, Illinois, he became a professional photographer. There, he married Emma Malcomb on August 1, 1866, 10 who bore three children before her death in 1878. 11 Joseph remained in Morris seven more years, where he operated a series of fine art galleries, specializing in ambrotypes, opalotypes, "modern improved sun-light pictures," and photographs; 12 for a time in the mid-1860s he was in partnership with B. Clow. 13 In 1871, Even relocated his successful photographic gallery to Peru, LaSalle County, Illinois, where, in 1883, he married his second wife, Rose Hankart.

...

"Joseph Even, of this city, has presented to the museum of the State Geological Survey, one of the finest specimens of a plant fossil ever found. It was found on the Mazon Creek. It is a beautiful single frond, or compound leaf of a fern, covering a slab about one and a-half feet by two and a-half in size. The leaf is black, and the rock upon which it is impressed is light gray, so that the contrast brings out all of the most minute details of structure and outline as clearly and distinctly as in the most delicate botanical drawing. Indeed, it looks more like a well preserved and carefully pressed specimen of a recent fern in a botanical herbarium, than a fossil plant that has remained for countless ages in the solid strata of the earth."

Even's fossil collection was undoubtedly the largest from Mazon Creek at the time. The first professional paleontologists to examine it were Amos Worthen and Fielding Meek, who described the invertebrate animals, and Leo Lesquereux, who studied the many fossil plants. Even loaned many specimens "for the use of the Illinois Geological Survey," which published the work of these three paleontologists. In fact, an illustration of one of the Mazon Creek fossils, Euproops, an early horseshoe crab, from Even's collection adorns the binding of the first eight volumes of Geology of Illinois published by that organization. Mazon Creek fossils were featured in Volume II of this series, in which Worthen described a fish with Newberry and crustaceans with Meek, Cope described an amphibian, and Lesquereux described eleven new plant species. Despite this early work on Even's collection, the first scientific description of Mazon Creek fossils, two insects, was published by the eminent American geologist James Dwight Dana in 1864, using specimens collected by amateur John G. Bronson. Although Lesquereux's 1866 paper had been completed by then, its publication had been delayed by its inclusion in the Geology of Illinois volumes.

Even's assistance was acknowledged in many of these early paleontological works, and, in some cases, new fossil species were named after him. For example, in 1866, Lesquereux named the fossil leaf Neuropteris evenii in his honor, noting that Even had found the type specimen and had "greatly enriched the fossil flora of Illinois by his researches." Even's collection was destroyed in a fire between 1866 and 1868 a great misfortune because his collection was described by Lesquereux (p. 468) as "remarkable indeed for the number and beauty of the specimens." Furthermore, the type specimens of Amphibanus grandiceps and Palaeocampa anthrax "was unfortunately destroyed by fire at Morris, along with many other valuable fossils belonging to Mr. Even, from the Mazon Creek locality"(p. 565). In 1870, however, Lesquereux noted (p. 378) that Even ". . . after the loss of his valuable cabinet by fire, [had] begun again his researches with renewed zeal and great success . . ."

Other important early collectors at Mazon Creek, mentioned by Worthen, Meek and Lesquereux, were Samuel S. Strong, Michael Prendel, and John Collins, all from Morris, the largest city near the fossil beds. Lesquereux (1870, p. 476) called Strong and Even "ardent and clever investigators" (1870, p. 378), and noted that Strong had ". . . most liberally presented the State Cabinet and myself with a large number of rare and new species" of fossil plants. Strong's collection was eventually purchased by Othniel Marsh, the nineteenth-century vertebrate paleontologist of dinosaur fame, for the Peabody Museum at Yale University. It is interesting to note that, although Strong's collection was apparently rich in Mazon Creek vertebrate fossils, Marsh never described any, whereas his arch rival, Cope, the equally famous vertebrate paleontologist, described the first amphibian from that locality, which had been collected by Even. The size of Strong's collection can be appreciated from the fact that it contained nearly 1200 specimens of Acanthotelson stimpsoni, which was more than all other Mazon Creek fossil crustaceans known in other museums.

By the late nineteenth century, Mazon Creek fossils attracted numerous other serious amateur collectors, including C. D. Young and Homer Hill of Morris, W. J. Knoblock of Quincy, W. Oswald of Braidwood, and George Condie of Spring Valley.  Some of these collectors were prominent citizens of Morris, including Grundy County National Bank president Joseph C. Carr and attorney Perry A. Armstrong. Interest in the Mazon Creek fossils was so great that, in 1880, the Morris Academy of Sciences was founded with Armstrong as president, Carr as treasurer, Frank Bliss, also of Grundy County National Bank as secretary, and Professor Kern as corresponding secretary. The Academy maintained a fine collection of fossils in a room on the second floor of the courthouse in Morris, which was open to the public at all times; many of these fossils came from the collections of Carr, George Bedford and Dr. W. E. Walsh. Scientists, students, collectors, and fossil dealers in ever-increasing numbers descended upon the Mazon Creek Fossil Beds on the Benson, or "Fossil Bed" farm, as it was commonly called. It is reported that "on a Sunday or holiday, the Benson family would see a line of carriages coming down the road, all headed for the same place." (p. 282) The State of Illinois offered to purchase the farm for its geologic significance from the Benson family, but they refused.
Later, came such collectors as George Langford and his son (also George), who were both amateur fossil collectors and scientists.  George Sr. left a huge mark on Mazon Creek.  He donated or sold multiple collections to museums around the United States.  In the late 1950's and early 1960's, he wrote three books on the subject, which were referred to as the bible of Mazon Creek fossils for many years.  Additionally, he served as Curator of Fossil Plants at the Field Museum of Natural History in Chicago from 1950 until his retirement about 10 years later.
ESCONI published George's books and members made many contributions from the inception of the club in 1949 onward.  Jim Konecny, who served as president of ESCONI in the early 1960's, along with his wife Sylvia has multiple fossils named for them. 
The Field Museum became a hotbed of Mazon Creek fossils in the 1960's as Dr. Eugene Richardson forged relationships with amateur fossil collectors to find and name many new species.  That led to the naming of Tullymonstrum gregarium, which is named after another amateur Francis Tully, who was a member of ESCONI.  The Tully Monster was named the state fossil on Illinois in 1989.
The 1980's and 1990's saw ESCONI publish three books to help identify Mazon Creek fossils, both fauna and flora... "Keys To Identify Pennsylvanian Fossil Plants of the Mazon Creek Area" in 1986 (updated in 1990), "Keys To Identify Pennsylvanian Fossil Animals of the Mazon Creek Area" in 1989 (republished in 1999), and "Creature Corner" in 2001.  Those books had many ESCONI contributors over the years.  The "Keys" books grew out of notes from the Paleontology Study Group in the 1960's, 1970's, and 1980's, while "Creature Corner" saw its origins in a regular feature in ESCONI newsletters.  All three books feature the breathtaking artwork of Don Auler, with much of the text by Andy Hay.
Most recently, ESCONI has published three books by Jack Wittry.  Starting with the "Mazon Creek Fossil Flora" in 2006, "The Mazon Creek Fossil Fauna" was published in 2012.  Along with the most recent book "The Comprehensive Guide to the Fossil Flora of Mazon Creek", these books are the new canon of information for Mazon Creek collectors.  Jack Wittry is a prolific collector that has contributed greatly to the science of Mazon Creek.  In 2015, he was awarded the Harrell L. Strimple Award from the Paleontology Society for his life long efforts.
Appendix C in the "Richardson's Guide to the Fossil Fauna of Mazon Creek" has a pretty complete list of Mazon Creek fossils named for collectors.  The list is very long, with quite a few familiar names like Andy Hay, Eugene Richardson, Chris Cozart, John and Lucy McLuckie, Dan Danrow, Sylvia and James Konecny, Tom Testa, Keith Holm, and David Douglass (Dave's Down To Earth Rock Shop).
Adolarryia bairdi, Gordon C. Baird and Larry Osterberger
Bandringa herdinae. Jerry Herdina and Ray Bandringa
Bandringa rayi, Ray Bandringa
Bicarinitarbus pieckorum, Helen and Ted Piecko
Caulopteris mcluckie, Lucy and John McLuckie
Caulopteris langfordi, George Langford, Sr. and Jr
Concavicaris georgeorum, Harriet and Calvin George
Conchopoma edesi, Thomas Edes
Curculioides mcluckei. Lucy and John McLuckie
Dabascanthus inskasi, Walter Dabasinskas
Dasyonthus pohli, Joe Pohl
Dryptoscolex matthiesae, Catherine and Harry Matthies
Elonichthys wolffi, Terry and Francis Wolff
Esconichthys apopyris. Earth Science Club of Northern llinois (ESCONI)
Esconites zelus, Earth Science Club of Northern Illinois (ESCONI)
Escumasia roryi, "Escumas Rory" a pen name of Eugene S. Richardson, Jr.
Essexella asherae, Helen Asher
Eubrodia dabasinskasi, Walter Dabasinskas
Eucryptocaris asherorum, Helen Asher
Fossundecima konecniorum, Sylvia and James Konecny
Gilpichthys greenei, Frank Greene
Grammysioidea hayi, Josephine and Andrew Hay
Herdina mirificus, Jerry Herdina
Hesslerella shermani, Robert Hessler and Levi Sherman
Heterologus langfordum, George Langford, Sr. and Jr.
Holmacanthus keithi, Keith Holm
Homaloneura dabasinskasi, Walter Dabasinskas
Illinichthy cozarti, Chris Cozart
Illilepas damrowi. Dan Damrow
Jeletzkya douglassae, June Douglass
Jimpohlia erinacea, Jim Pohl
Kallidecthes richardsoni, Eugene S. Richardson, Jr.
Kottixerxes gloriosus, A. W. Kott
Larryia osterbergi, Larry Osterberger
Levisettius campylonectus, Riccardo Levi-Setti
Lithoneura piecko, Helen and Ted Piecko
Lithoneura clayesi, Walter Clay
Mayomyzon pieckoensis, Helen and Ted Piecko and Stephen LeMay
Mazoglossus ramsdelli, Karlene Ramsdell
Mazonopterum wolfforum, Terry and Francis Wolf
Mcluckiepteron luciae, Lucy McLuckie
Megapleuron zangerli, Rainer Zangerl
Mischoptera douglassi, Lincoln Douglass
Myxinikela siroka, Daniel Sroka
Nemavermes mackeei, Melbourne A. McKee
Neofouquea suzanneae, Suzanne Dabasinskas
Notorachis wolfforrum, Terry and Francis Wolff
Octomedusa pieckorum, Helen and Ted Piecko
Paleocadmus herdinae, Jerry Herdina
Paleocadmus pohli, Joe Pohl
Pherusa prinosi (in prep.), John Prinos
Pieckonia helenae, Helen Piecko
Pieckoxerxes pieckoae, Helen Piecko
Pohlsepia mazonensis, Jim Pohl
Polysentor gorbairdi, Gordon C. Baird
Priapulites konecniorum, Sylvia and James Konecny
Ramsdelepidion schusteri, Karlene and Stephen Ramsdell and Tony Schuster
Reticulomedusa greenei, Frank Greene
Rossites inopinus, Herbert M. Ross
Rutellifrons wolfforum, Terry and Francis Wolff
Similihariotta dabasinskasi, Walter Dabasinskas
Smithixerxes juliarum, Julia Smith
Srokalarva berthei, JoLynn Berthe-Traub and Steven D. Sroka
Stigmarioides holmesi, Mrs. George (née Sidney Holmes) Langford
Streptocyclus langfordi, George Langford, Sr.
Testajapyx thomasi, Thomas Testa
Titanoscorpio douglassi, David Douglass
Tullimonstrum gregarium, Francis J. Tully