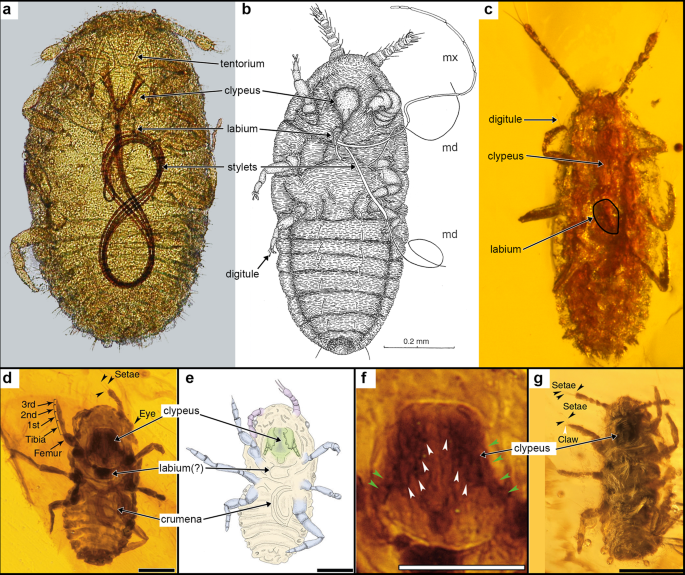 Images d–g are from the original report by Gao et al. (ref. 1). a Crawler of the extant species Marchalina hellenica (Margarodidae), ventral view, showing the internal, figure-8 coiled feeding stylets (the crumena) through the translucent body wall. From ref. 16, the crumena is commonly a single coil. b Early instar nymph of pityococcid in Baltic amber (ventral view), from ref. 14 (original drawing by late Jan Koteja). The feeding styles are fully everted. c Early instar nymph, family undetermined, in Burmese amber, AMNH Bu-1327. Ventral view, slightly oblique laterally (making nymph appear slightly thinner than actual). Location of the labium is outlined. Stylets are not everted, and crumena not visible through the opaque body wall. Figures d–g: From Gao et al. (2019, ref. 1). The labels outlined in white are ours; all others are original. Permissions: a, ©2006 International Bee Research Association, reprinted by permission of Taylor & Francis Ltd., http://www.tandfonline.com on behalf of ©2006 International Bee Research Association. b, courtesy of Dr. Paweł Koteja.
Nature has an open access paper which looked deeper into the discovery of insects found on dinosaur feathers preserved in amber.  The amber was found in the Myanmar and dates to the mid-Cretaceous Period about 100 million years ago.  The original paper "New insects feeding on dinosaur feather in mid-Cretaceous amber" was published in 2019.
A recent article1 describes minute insects that are on or close to two feathers in two pieces of mid-Cretaceous (100 Ma) amber from Myanmar, and states that evidence "strongly suggest[s] that Mesophthirus is ectoparasitic". The feathers are presumably from stem-group, feathered avialan dinosaurs. Despite the abundance of feathers in Burmese amber2 and even the rare occurrence of nestling pennaraptorans2,3, ticks have been the only ectoparasites found thus far in Burmese amber4.

The authors left Mesophthirus as incertae sedis to any insect order because of what they proposed as an unusual combination of features. We independently concluded that these insects are actually early instar nymphal scale insects (order Hemiptera; suborder Sternorrhyncha; superfamily Coccoidea). As such, Mesophthirus could not have been parasitic; their proximity to feathers is a fossilized coincidence unrelated to diet.

Abstract of Original Paper

Due to a lack of Mesozoic fossil records, the origins and early evolution of feather-feeding behaviors by insects are obscure. Here, we report ten nymph specimens of a new lineage of insect, Mesophthirus engeli gen et. sp. nov. within Mesophthiridae fam. nov. from the mid-Cretaceous (ca. 100 Mya) Myanmar (Burmese) amber. This new insect clade shows a series of ectoparasitic morphological characters such as tiny wingless body, head with strong chewing mouthparts, robust and short antennae having long setae, legs with only one single tarsal claw associated with two additional long setae, etc. Most significantly, these insects are preserved with partially damaged dinosaur feathers, the damage of which was probably made by these insects' integument-feeding behaviors. This finding demonstrates that feather-feeding behaviors of insects originated at least in mid-Cretaceous, accompanying the radiation of feathered dinosaurs including early birds.