This is Mazon Monday post #59.  What's your favorite Mazon Creek fossil?  Tell us at email:esconi.info@gmail.com.
-----------------------------------------------------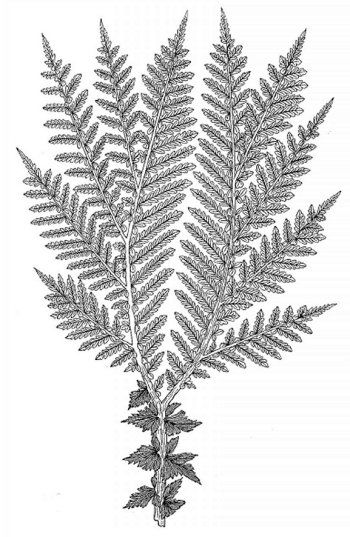 Cyclopteris of Odontopteris minor.  These kind of leaves were attached to the base of the complete leaf.
This week, we visit an interesting plant fossil called Cyclopteris orbicularis, which is a circular leaf associated with the seed ferns Laveineopteris, Neuropteris, Reticulopteris, Odontopteris, and Macroneuropteris.  The Cyclopteris leaves are attached to the lower parts of the pinnate fronds and the trunk of axis of the plant.  C. obicularis was first described in 1831 by Adolphe-Theodore Brongniart, widely considered the father of Paleobotany.
Cyclopteris sp. appears in the book "Keys to Identify Pennsylvanian Fossil Plants of the Mazon Creek Area", which was published in 1986 and 1990 by ESCONI.
In the Langford books, there are multiple species of Cyclopteris, however Wittry in "A Comprehensive Guide to the Fossil Flora of Mazon Creek" brings a couple of those species together as Cyclopteris obicularis (Brongniart 1831).
Langford
Wittry
1831. Cyclopteris orbicularis Brongniart: p. 220, pl. 61, figs. 1, 2
1831. Cyclopteris obliqua Brongniart: p. 221, pl. 61, fig. 3
1870. Neuropteris collinsii Lesquereux: p. 326, pl. 5, figs 5, 6
1940. Cyclopteris collinsii Lesquereux; Janssen: p. 51, pl. 12, fig. 3
1958. Cyclopteris obliqua Brongniart; Langford: p. 228, fig. 398
1958. Cyclopteris trichomanoides Sternberg: Langford: p. 228, figs. 399, 400
1979. Cyclopteris trichomanoides Janssen: p. 157, figs. 148, 149

DESCRIPTION: Cyclopteris orbicularis are isolated pinnules with veins that radiate outward in a fan-like pat tern. They lack any trace of a midvein. The overall size and shape is highly variable and can be kidney-shaped, fan-shaped, suborbicular, oblong, or nearly oval in outline. The base is commonly cordate. The veins radiate from the base and remain straight or may gently curve toward the margin.

REMARKS: Cyclopteris orbicularis is a common form. Most known examples of attached cyclopterid leaves are associated with Laveineopteris foliage (Cleal and Shute, 2003), but they are also known to be formed by plants with Neuropteris, Reticulopteris, Odontopteris, and Macroneuropteris foliage (Laveine, 2005). The name Cyclopteris is used only for isolated leaves where the parent plant is in doubt. If the parent plant can be determined, the cyclopterid name would be dropped and the plant's foliage genus and species name is used. There have been 68 species names of Pennsylvanian aged Cyclopteris erected, some based on only a few specimens. The reason for their taxonomic distinction is rarely made clear. Moreover, a single plant species may produce more than one form of cyclopterid. Described cyclopterid species have a variety of forms. Nearly all of the isolated cyclopterid specimens of Mazon Creek flora fall within the wide-ranging features of one morpho species, C. orbicularis. Also see Laveineopteris rarinervis or Neuropteris fimbriata.
Specimens