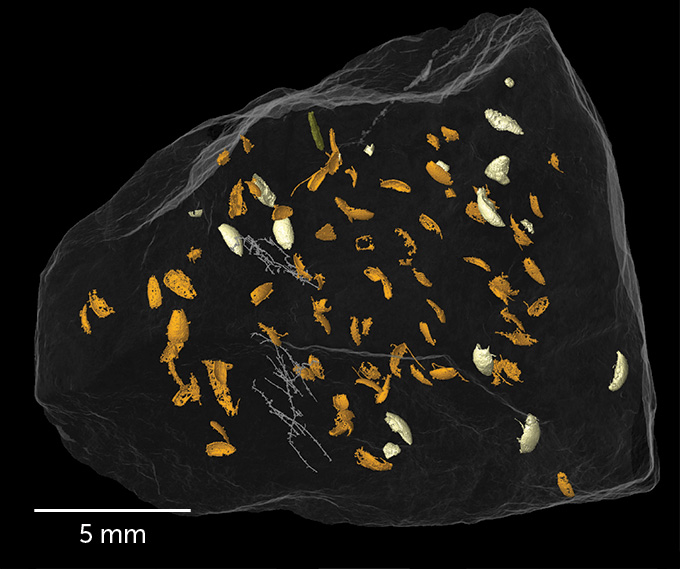 This computer rendering of newly analyzed fossilized dung shows beetle remains (tan), beetle wing covers (orange), fungal fibers (gray) and algae (green).M. QVARNSTRÖM ET AL/CURRENT BIOLOGY 2021
sciencemag,com has a story about a new beetle species, Triamyxa coprolithica, discovered in a coprolite.  The fossil dates to about 230 million years ago.  Coprolites, which are fossilized dung, can be used to study what plants were eaten by herbivores back when the dung was deposited.  Previously, fossilized bone and phytoliths, which are microscopic silica structures made by some plants, have been found in coprilites, but this is the first time insect parts have been discovered.  Details can be found in a recent paper published in the journal Current Biology.
Beetles are everywhere—and new members of Earth's most diverse group of organisms are being discovered nearly every day. Now, for the first time, scientists have found a new species in an unusual place: the fossilized poop of a dinosaur ancestor. Found whole and remarkably intact, the 230-million-year-old beetle, named Triamyxa coprolithica, is the first insect to be scientifically described from fossilized feces, also known as coprolites.

"This is very exciting research," says Spencer Lucas, a paleontologist at the New Mexico Museum of Natural History and Science, who was not involved in the work. "This study is cutting edge and explores a whole new area of paleontology that has only been understood in the last decade."

Coprolites are abundant in museum and research collections around the world. But until recently, Lucas says, few scientists examined these "little capsules of incredible fossil record" for their content, largely because researchers did not think small insects could successfully pass through a digestive system and end up in a recognizable form. Instead, paleontologists got most of their information about insect evolution from unlucky ones trapped in amber, or fossilized tree resin. But these fossils aren't very old, geologically speaking: The most ancient ones date back to about 140 million years ago.