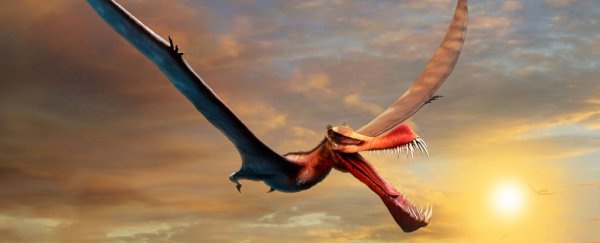 Life reconstruction of Thapunngaka shawi. Image credit: Richards et al., doi: 10.1080/02724634.2021.1946068.
Science Alert has a story about a terrifying new pterosaur recently described from Australia.  It had a seven meter wingspan, bristling teeth in its jaws, and it flew through the air!  That's how a new pterosaur from Australia has been described.  Named Thapunngaka shawi, it lived about 110 million years ago during the Cretaceous Period.  The discovery is described in a paper published in the Journal of Vertebrate Paleontology.  It's the largest species of pterosaur ever found on the continent, an extremely important find that contributes to our understanding of pterosaur diversity in Australia. And it would have been absolutely metal.
"It's the closest thing we have to a real life dragon," said paleontologist Tim Richards of the University of Queensland in Australia.

"The new pterosaur, which we named Thapunngaka shawi, would have been a fearsome beast, with a spear-like mouth and a wingspan around seven meters (23 feet). It was essentially just a skull with a long neck, bolted on a pair of long wings.

"This thing would have been quite savage. It would have cast a great shadow over some quivering little dinosaur that wouldn't have heard it until it was too late."
For more coverage, have a look at this story in Sci-News or this one in ABC News.