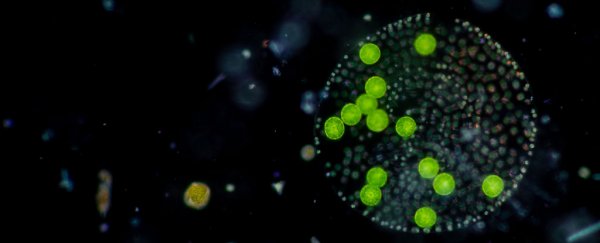 Volvox, seen here under a microscope, is a genus of freshwater green algae. (Sinhyu/iStock/Getty Image)
Science Alert has a story about the oldest land plants.  In rock samples from the Canning Basin in Western Australia, scientists have found clues to early land plant evolution.  These samples come from deposits that date to the lower Ordovician about 480 million years ago when land plants were small and moss-like.  The research can be found in a paper published in the journal Science.
Estimates of the initial timing of the colonization of land by plants are based on large fossilized plant remains, calculations of how long it has taken different species to evolve (called "molecular clock" data), and the record of plant spores.

Molecular clock data suggest land colonization occurred around 515 million years ago (in the Cambrian period), while the earliest plant stem fossils occur around 430 million years ago (in the mid-Silurian period).

These early small plants did not have root systems or hard woody tissue, which may explain why their fossil remains are rare.

Alternatively, we can look at the spores of plants. Spores are simple reproductive units that carry genetic material (much simpler than seeds, which did not evolve until much later).

For successful reproduction, the spore walls of land plants had to be strong enough to resist drying out and damage from ultraviolet radiation.

These resilient spore walls are also what allows the spores to be preserved for hundreds of millions of years in ancient sediments, and to be extracted from those sediments using strong acids as used in this study. We then studied the shapes of the spores under the microscope.