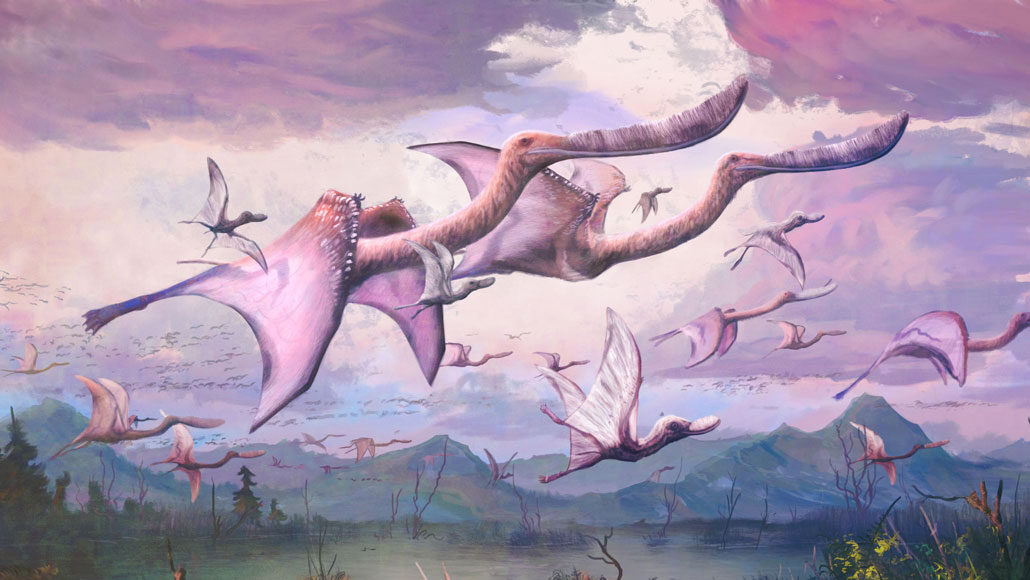 In this artist's rendition, flamingo-like Pterodaustro guinazui fly against the backdrop of Early Cretaceous Argentina. New research suggests hatchlings of P. guinazui could fly the moment they emerged from their shells. MARK WITTON
ScienceNews has a story about pterosaurs.  New research suggests that pterosaur hatchlings might have been able to fly right after hatching.  This study was published in the journal Scientific Reports.
Pterosaur hatchlings may have been able to fly right out of the shell — although the flight of those ancient baby reptiles might have looked a bit different from that of the adults.

A new analysis of the fossilized wing bones of embryonic, newly hatched and adult pterosaurs suggests the baby creatures were strong and nimble fliers from the start, researchers report July 22 in Scientific Reports.

Pterosaurs were a diverse group of ancient flying reptiles that lived alongside dinosaurs from the Triassic to the Cretaceous periods, 228 million to 66 million years ago. The group includes Quetzalcoatlus northropi, the largest creature known to take wing, and Kunpengopterus antipollicatus (aka "Monkeydactyl") which had opposable thumbs that enabled it to climb trees (SN: 4/14/21).