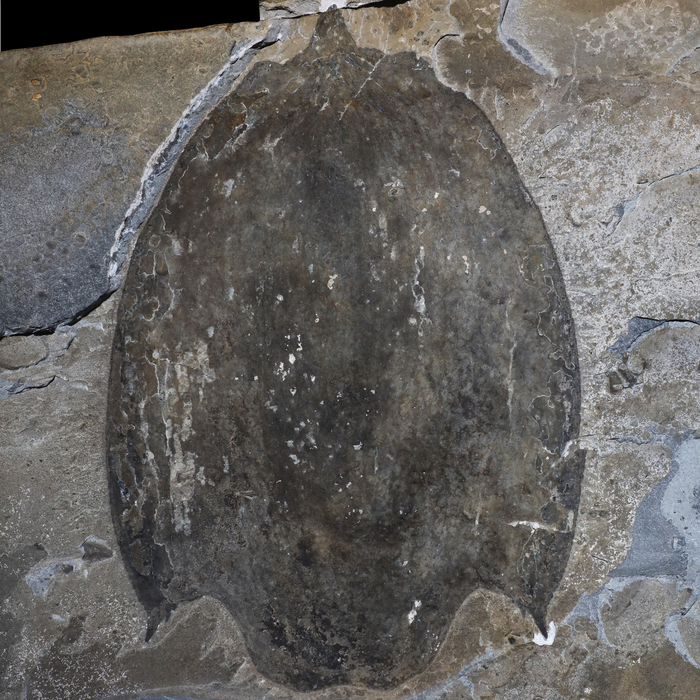 Fossilized Titanokorys carapace. (Jean-Bernard Caron/Royal Ontario Museum)
Science Alert has a story about a new arthropod discovered in the Burgess Shale.  The Burgess Shale is a fossil deposit located in British Columbia which gives visibility into the explosion of life during the Cambrian Period more that 500 million years ago.  This new animal, Titanokorys gainesi, was more than a foot long, which was large for the time period.  A paper in the journal Royal Society Open Science describes this new research.
Titanokorys gainesi, newly discovered in the Burgess Shale fossil formation, would have been a Cambrian colossus, measuring a gobsmacking estimated half a meter (1.64 feet) in length. That may seem small to us now, but at a time when almost everything else was less than a fifth of that size, it's extraordinary.

"The sheer size of this animal is absolutely mind-boggling," said paleontologist Jean-Bernard Caron of the Royal Ontario Museum. "This is one of the biggest animals from the Cambrian period ever found."

The Cambrian period was a momentous time in Earth's history. Around 541 million years ago, over a period of about 25 million years, almost all major forms of animal life suddenly appeared on the scene in an event known as the Cambrian explosion. Nothing else like it has been seen before or since.