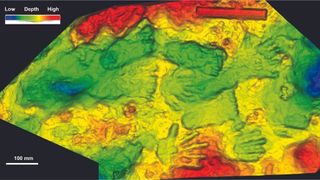 LiveScience has an article about what may be the oldest art ever found.  200,000 years ago on a high plateau, children squished their hands and feet into a sticky mud floor of a cave.  In a paper published in the journal Science Bulletin, the authors argue this should be considered "parietal" art, which is art that cannot be moved.  The cave is in what is now modern day Tibet.
Study author David Zhang, a professor of geography at Guangzhou University in China, first spotted the five handprints and five footprints on an expedition to a fossil hot spring at Quesang, located more than 13,100 feet (4,000 meters) above sea level on the Tibetan Plateau. The authors dated the sample by assessing how much uranium, a radioactive element found naturally in the environment, could be found in the prints. Based on the rate at which uranium decays, they estimated that the impressions were left about 169,000 to 226,000 years ago — smack dab in the middle of the Pleistocene epoch, which occurred 2.6 million to 11,700 years ago. 

And judging by the size of the prints, the team determined that the marks were left by two children, one about the size of a modern-day 7-year-old and the other the size of a 12-year-old. That said, the team can't be sure what species of archaic humans left the prints, said study co-author Matthew Bennett, a professor of environmental and geographical sciences at Bournemouth University in Poole, England.

"Denisovans are a real possibility," but Homo erectus was also known to inhabit the region, Bennett told Live Science, referring to a couple of known human ancestors. "There's lots of contenders, but no, we don't really know."