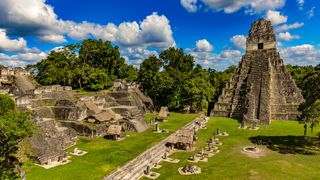 (Image credit: Shutterstock)
Live Science has a story about the Maya and what may have caused the collapse of their society about 1000 years ago.  Usually a mix of environmental and political problems are sited as the reason for the collapse.  There were severe droughts between 800 CE and 1000 CE. However, collapse may be a bad description as not all Mayan cities declined at the same time.  Even during European contact, some Mayan cities were flourishing.
The Maya have lived in Central America and the Yucatán Peninsula since at least 1800 B.C. and flourished in the region for thousands of years. According to countless studies, the Maya civilization collapsed between A.D. 800 and 1000. But though the term "Maya collapse" brings up images of ruins overgrown with forests and of an ancient civilization whose cities fell and were abandoned, the reality is far more complex.

So, why did the Maya civilization collapse, and can you even call it a "collapse"?

For starters, the Maya are still here today. "It was the Maya political system that collapsed, not [their] society," Lisa Lucero, professor of anthropology and medieval studies at the University of Illinois at Urbana-Champaign, told Live Science in an email. "The over 7 million Maya living today in Central America and beyond attest to this fact."