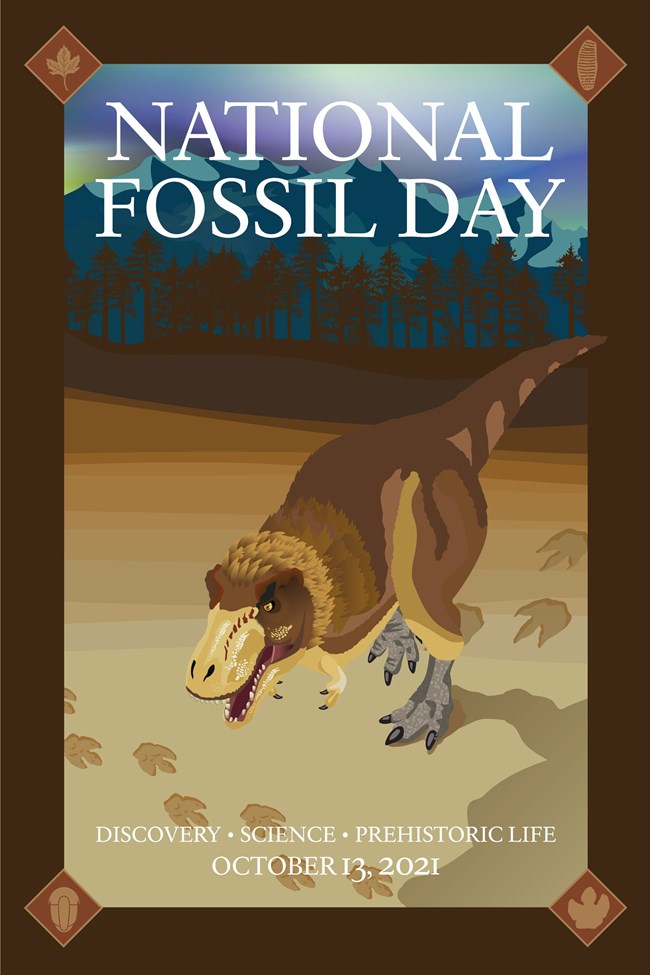 Happy National Fossil Day!  The mascot this year is an arctic tyrannosaur from Denali National Park and Preserve.  Check the official website!
The 2021 National Fossil Day Logo is inspired by the diverse record of Late Cretaceous dinosaur footprints from Denali National Park and Preserve in central Alaska. The logo features an Alaskan tyrannosaur walking under a northern polar night sky, through a mudflat, and encountering a trackway left by a hadrosaur (duck-billed dinosaur). In the distance, an ancient boreal forest outlines the Cretaceous landscape. The Late Cretaceous (100 to 66 million years ago) represents the end of the Mesozoic Era and the height of dinosaur diversity. At the end of the Cretaceous a massive extinction event occurred that claimed all non-avian dinosaurs, pterosaurs, large marine reptiles, several groups of early birds, a few families of fish, and several groups of mollusks such as ammonites. The extinction event also marked the beginning of the Cenozoic Era and the great diversification of mammals.

Located in the interior of Alaska, Denali National Park and Preserve encompasses over six million acres of taiga, tundra, glaciers, and mountains, including the park's namesake Denali (formerly Mount McKinley). Denali preserves the tallest peak in North America reaching an elevation of 6,190 m (20,310 ft). The area was established as a national park on February 26th, 1917 and was originally named Mount McKinley National Park in honor of President William McKinley. The park was expanded and renamed Denali National Park and Preserve in 1980.