This is Mazon Monday post #80.  What's your favorite Mazon Creek fossil?  Tell us at email:[email protected].
-----------------------------------------------------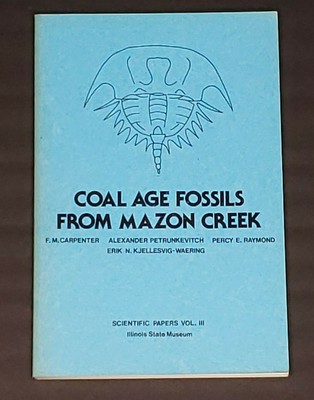 The book "Coal Age Fossils From Mazon Creek" was published in 1979 by the Illinois State Museum.  The ISM has a long history publishing science books.  This one is volume III of the scientific papers series.  It is a reprint of four papers on fossils of charismatic Mazon Creek animals.  All of the papers are important works on insects, horseshoe crabs, spiders, and eurypterids.  The authors are respected leaders in the field.  Although we may know more now than when these papers were written in the 1940's, these are the original descriptions that catalog and describe these animals in great detail.  There are great photos and drawings, with some of the photos of actual George Langford specimens from the Illinois State Museuim.
The list of papers includes:
"Carboniferous Insects from the Vicinity of Mazon Creek, Illinois" by F.M. Carpenter of Harvard University, 1944
"Paleozoic Arachnida of Illinois - An Inquiry into their evolutionary trends" by Alexander Petrunkevitch, Yale UniversityXi, 1946
"Xiphosura in the Langford Collection" by Percy E. Raymond, 1945
"The Mazon Creek Eurypterid: A Revision of the Genus Lepidoderma" by Erik N. Kjellesvig-Waering, 1948
Sample pages