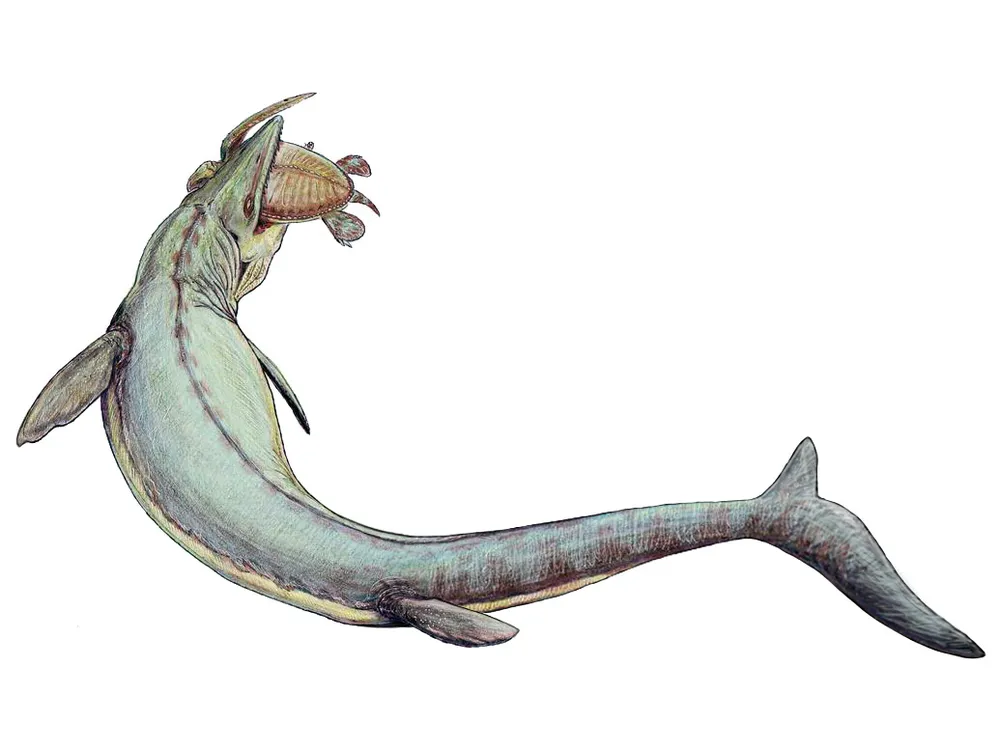 Mosasaurus was among the largest and last of the sea-dwelling mosasaurs. Dmitri Bogdanov via Wikimedia Commons under CC0
Smithsonian Magazine has a post about mosasaurs.  A new paper in the journal PaleoBios finds that mosasaurs ruled the oceans up until the mass extinction event at the end of the Cretaceous some 66 million years ago.  It had been theorized they went extinct millions of years before the impact.  Fossil vertebra from the Hell Creek formation provided the evidence.  
There hardly was a more fearsome family of seagoing carnivores than the mosasaurs. From the time the first of these marine lizards slipped into the oceans about 98 million years ago, mosasaurs diversified into a widespread array of aquatic ambush predators that fed on everything from dinosaurs washed out to sea to other mosasaurs. And while it was once thought that these reptiles started to disappear from Earth's oceans millions of years before a catastrophic asteroid strike closed the Cretaceous period, a fossil find in North Dakota is helping to rewrite the history of these voracious lizards.

The Hell Creek Formation of the western United States is most famous for fossils of Tyrannosaurus, Triceratops, Pachycephalosaurus and other dinosaurs that roamed the forests and swamps of the region 66 million years ago. But parts of the Hell Creek Formation also preserve pools of what was once ocean, the remainders of a vast Western Interior Seaway that split North America in two. In one of these pockets of marine strata a private landowner found a curious fossil—an isolated piece of a creature's backbone—and took it to the North Dakota Geological Survey for identification. The bone had come from a large mosasaur, and further examination of the site turned up part of a mosasaur's jaw. The giant lizards hadn't vanished long before the impact. The bones added to an emerging picture that the ocean's apex predators were still prowling the Cretaceous seas until the day the asteroid struck, the conclusion of a paper published in August in the journal PaleoBios.

Up until now, notes study author and WVU Potomac State College paleontologist Nathan Van Vranken, most mosasaur finds from North America have come from sites along the ancient Atlantic Coast and Gulf of Mexico. As sea levels fell and the Western Interior Seaway drained off the continent, it seemed the mosasaurs that once dominated those waters disappeared as the once thriving ecosystems turned into a "Strangelove Ocean" where the water became more acidic and plankton died off en masse. Such a harsh environment was thought to lack enough prey for mosasaurs and other large predators to survive. But the new find from North Dakota indicates that large mosasaurs were still present in the last remaining parts of the ancient seaway in the middle of the continent. "They still persisted until the end," Van Vranken says.