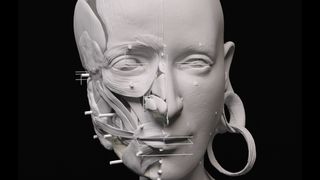 (Image credit: Copyright Joana Bruno/ASOME/Universitat Autònoma de Barcelona)
Live Science has a story about some facial reconstruction performed on a Bronze Age woman's skull.  Researchers in Spain, discovered the remains of the woman in 2014.  She was buried with lavish jewelry - including a diadem, beaded necklaces, silver-crafted rings, bracelets, spiral hairpieces and earplugs with spirals, as well as a silver-rimmed drinking pot and silver-handled awl, a tool used to piece textiles.  The find was described in the journal Antiquity earlier this year.
A "powerful, maybe even frightening" woman buried with a silver diadem in Bronze Age Spain now has a virtually reconstructed face that shows her wearing a serene expression and huge hoop earrings dangling from earplugs.

Earlier this year, researchers announced they had discovered the woman's and a man's remains interred together in a large ceramic pot buried in what was likely an ancient palace. The man had died a few years before the woman; after she died at a later date, someone reopened the pot and placed her body next to his. Now, using the partial skull and jewelry from the burial, a scientific Illustrator has digitally recreated the woman's face, as well as the faces of others buried at the site, known as La Almoloya.

"The biggest challenge about this facial reconstruction was that the upper portion of her skull did not survive the ages," Joana Bruno, ​​the freelance scientific illustrator who created the digital reconstructions and a collaborator with the La Almoloya archaeologists at the Autonomous University of Barcelona, told Live Science in an email. "Luckily, the diadem (the silver crown) was found in place, around her head, so that gives us some measure for her head, but it was still a challenge."