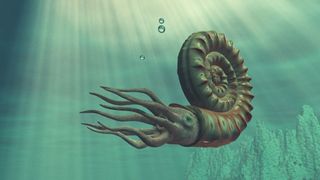 (Image credit: Getty / estt)
LiveScience has a story about some truly large ammonites.  About 80 million years ago during the Cretaceous Period, six foot ammonites lived in the Atlantic Ocean.  A new study published in the journal PLOS One looked at the evolutionary history of these massive cephalopods.  They looked at 154 specimens (!), including 100 newly found specimens from England and Mexico.
About 80 million years ago, human-size sea creatures with tentacle-like arms and coiled shells up to 6 feet (1.8 meters) wide glided through the Atlantic Ocean, a new study reveals. 

These creatures were the world's largest ammonites, a group of shelled cephalopods that went extinct roughly 66 million years ago. The largest ammonite fossil ever discovered belongs to the species Parapuzosia seppenradensis; the fossil, which was found in Germany in 1895, has a gargantuan shell measuring 5.7 feet (1.7 m) across. 

Although this famous fossil was uncovered more than a century ago, few ammonite fossils of similar size had been found until recently, which left big questions about how and when P. seppenradensis evolved to be such an impressive size.