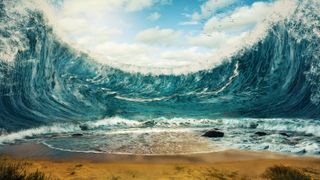 (Image credit: Shutterstock)
Live Science has a story about a very large earthquake 3,800 years ago.  It happened in northern Chile and probably measured about 9.5 on the moment magnitude scale.  Previously, the largest earthquake was the 1960 Valdivia earthquake in southern Chile.  That one had an average slip of 11 m across the Nasca faults, with 25 - 30 m of slip offshore near the epicenter.  The details of this ancient earthquake were
published
in the journal Science Advances.
"It had been thought that there could not be an event of that size in the north of the country simply because you could not get a long enough rupture," study co-author James Goff, a geologist at the University of Southampton in England, said in a statement. 

Like the Valdivia earthquake, the ancient quake was a megathrust earthquake, the most powerful type of earthquake in the world. These earthquakes occur when one of Earth's tectonic plates gets forced, or subducted, underneath another. The two plates eventually get locked into place by friction, but the forces that caused the plates to collide continue to build. Eventually, so much strain gathers that the point of contact between the plates rips apart, creating a gigantic rupture and releasing energy in the form of devastating seismic waves. 

Evidence for the giant quake was found in marine and coastal items — such as littoral deposits (boulders, pebbles and sand native to coastal regions) and marine rocks, shells and sea life — that the researchers discovered displaced far inland in Chile's Atacama Desert. 

"We found evidence of marine sediments and a lot of beasties that would have been living quietly in the sea before being thrown inland," Goff said in the statement. "And we found all these very high up and a long way inland, so it could not have been a storm that put them there."