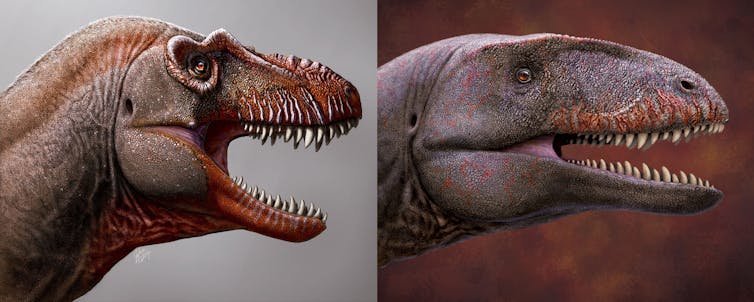 An artist's rendition of Thanatotheristes (left) and Ulughbegsaurus (right) based on the discovered fossils. (Julius Csotonyi), Author provided
The Conversation has a piece about the discovery of a couple "missing" apex predators during the Cretaceous.  The animals, Thanatotheristes degrootorum, a tyrannosaur from North America and Ulughbegsaurus uzbekistanensis, a carcharodontosaur from Uzbekistan, were found languishing in museum collections where they had sat for at least a decade.  Both fill in gaps of our knowledge and help to paint a more complete picture of the mid-Cretaceous ecosystems.  The Conversation is a place were researchers can report on their work in many fields including paleontology.  This article was written by Darla K. Zelenitsky an Associate Professor, Dinosaur Paleobiology at the University of Calgary.
In 2019, paleontologists Jared Voris and Kohei Tanaka — both who had trained in my lab at the University of Calgary — visited museums to look at fossils housed in collections. Voris went to the Royal Tyrrell Museum in Drumheller, Alta., and Tanaka to the State Geological Museum in Uzbekistan.

Each found a fossil specimen they thought may have been important, although overlooked. Both fossils had been found in Cretaceous age rocks of their respective region, and had sat in the museum collections for at least a decade without much notice.

After many months of study, each of these fossils turned out to be an entirely new species of meat-eating dinosaur, previously unknown to science. This meant that we would need to formally describe them, and each would be given its own species name.

We named the new tyrannosaur species Thanatotheristes degrootorum, which means "reaper of death." The name draws inspiration from its predatory role in the 80-million-year-old ecosystem and for the first discoverer of the fossil bones, an Alberta rancher called John DeGroot.

On the other hand, we named the carcharodontosaur species Ulughbegsaurus uzbekistanensis after Ulugh Beg, a historical figure and early astronomer in Uzbekistan.