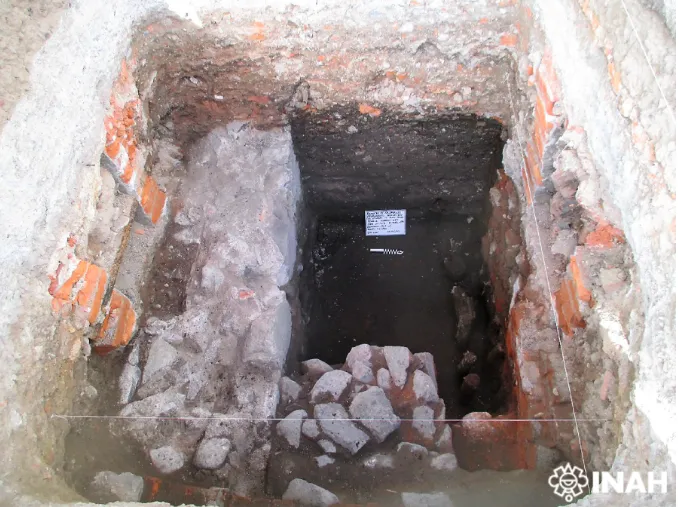 An electrical works project led archaeologists to uncover this Aztec-era dwelling.  Mexico's National Institute of Anthropology and History (INAH)
Smithsonian Magazine has a story about an accidental archaeological find in Mexico City.  Construction workers unearthed the remains of a large house while renovating an electrical substation.  The structure, which measures about 4300 square feet, dates to the late Postclassic period maybe 800 years ago.  It is fairly common to uncover Aztec ruins in Mexico City,  In 2017, renovations on a historic pawnshop led to the discovery of a palace built by Henan Cortes.
The house's location itself is unique, as it borders two neighborhoods not far from Tenochtitlan, which became the Aztec capital around 1325 C.E. Based on modern-day standards, the residence is vast: The remains stretch over more than 4,300 square feet, archaeologists say.

The findings show that the area was not only an important place to live but to work using the chinampas farming technique typical of the time. The Aztec agricultural system relied on "floating gardens"—patches of seemingly self-sustaining land that appear to float along shallow bodies of water. A pier with wooden beams that stretch up to 130 feet and connected channels found at the site demonstrate how the location would have functioned as part of a larger whole.

Even today, some Mexico City residents still use this farming method, reported Conde Nast Traveler's Megan Zhang in 2021. The tactic, which allowed the Aztecs to claim fertile land from the area's wetlands, is now used by organic farmers.