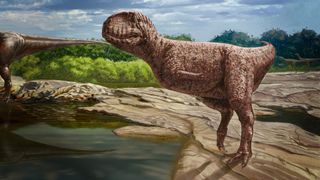 A newly discovered, as-yet unnamed abelisaurid cautiously approaches a watering hole, in this detail from an artistic representation of the ecosystem of the Bahariya Oasis in Egypt's Sahara Desert approximately 98 million years ago. (Image credit: Image by Andrew McAfee, Carnegie Museum of Natural History)
Live Science has a post about a new dinosaur discovery.   This new dinosaur is still unnamed and is known to be a meat-eater, which belonging to a group called the abelisaurids.   This dinosaur lived during the Cretaceous Period about 98 million years ago in the famous Bahariya Formation in what's now Egypt's Sahara Desert.  From previous discoveries, this large predator would have shared the ecosystem with a number of other large predators like Carcharodontosaurus, Bahariasaurus, and Spinosaurus.  For more details, you can find the description in the journal Royal Society Open Science.
Like other abelisaurids, the newfound dinosaur had a shortened, bulldog-like face. And despite its ferocious appearance, this carnivore probably wasn't the biggest, baddest boss to roam its stomping grounds.

"We're about 99% sure that, unlike some of its relatives from other times and places, this particular abelisaurid was not at the top of its food chain," Matthew Lamanna, a paleontologist at the Carnegie Museum of Natural History in Pittsburgh and one of the researchers who discovered the dinosaur, told Live Science in an email.

Though Lamanna and his fellow scientists found only a single bone, they were able to identify the fossil as an abelisaurid vertebra almost immediately, based on distinctive structures called epipophyses. "That's a multisyllabic word that basically means 'sticky-outy bits on the top left and top right of the vertebra,'" Lamanna said. This abelisaurid is the first dinosaur of its kind to be discovered at the Bahariya Formation site. After running a computer-based analysis of the bone's morphology, the team concluded that it belonged to a previously unknown species, which has yet to be given a scientific name. They published their findings June 8 in the journal

 Royal Society Open Science

(opens in new tab)

.