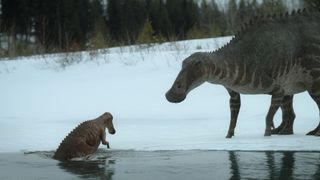 (Image credit: Apple TV+)
LiveScience has a post about how dinosaurs came to dominate in the early Jurassic.  It's long been theorized that dinosaurs were better adapted to hot weather and so took over from their crocodillian cousins around the Triassic/Jurassic extinction event about 202 million years ago.  Now, a paper in the journal Science Advances proposes that it was relative warm-bloodedness, feathers, and a high metabolism that allowed them to push crocodillians to the side.
Dinosaurs took over the planet thanks to their surprising ability to endure freezing-cold temperatures, ancient footprints have revealed. 

The dinosaur tracks, stamped into the sandstone and siltstone of ancient lake beds in the Junggar Basin of northwestern China, suggest that more than 200 million years ago, the reptiles had already adapted to survive the cold of the polar regions before a mysterious mass extinction event plunged the world into freezing darkness.

Dinosaurs first appeared in temperate southerly latitudes roughly 231 million years ago during the Triassic period (around 252 million to 201 million years ago), back when Earth's continents were still joined together to form a supercontinent called Pangea. By around 214 million years ago, dinosaurs had spread northwards toward Arctic regions, but they still remained a minor group compared to other species on Earth — such as the ancestors of modern crocodiles that ruled over the tropics and subtropics, scientists reported in a new study. At the time of Pangea, the Junggar Basin was about 71 degrees north of Earth's equatorial plane, falling comfortably within the Arctic Circle.