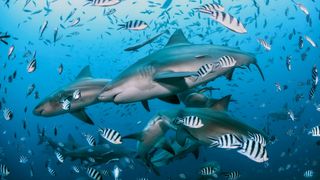 Here we see a group of bull sharks at Beqa Lagoon in Fiji. (Image credit: Alastair Pollock Photography via Getty Images)
Live Science has a shark story just in time for Shark Week.  Yes, you read that correctly... sharks are much older than dinosaurs.  Sharks evolved way back during the Ordovician Period, some 450 million years ago, while dinosaurs are relative youngsters at about 235 million years old.  Sharks have made it though all the major mass extinctions.  So, why have sharks, as a group, been so successful?
One explanation could be that sharks are capable of modifying their physiology in response to environmental conditions, such as shrinking in size when temperatures increase. This capability enables species to quickly adapt to rapidly changing ecological niches.

Sharks are close relatives of skates, rays and chimeras, all of which belong to a group of fish known as the chondrichthyes, which are distinct in that most of their skeleton is made of cartilage rather than bone. Gene expression studies in skates have shown their adaptability when the waters they inhabit change several degrees in temperature. For example, a population of winter skate (Leucoraja ocellata) living in the southern Gulf of St. Lawrence in Canada was able to adapt to water temperatures increasing 18 degrees Fahrenheit (10 degrees Celsius) over a period of 7,000 years by "dramatically reducing its body size" by 45%, a 2016 study in the journal Royal Society Open Science found. In evolutionary terms, 7,000 years is a short amount of time, which led scientists to think the winter skates' rapid change in size was down to an epigenetic response, in which gene expression is altered due to environmental factors, rather than natural selection gradually selecting for smaller individuals.

Christopher Lowe, a professor of marine biology and director of the Shark Lab at California State University Long Beach, told Live Science that some sharks are unique in that they have very large genomes, which may contain genes that, while not being useful now, may have enabled them to tolerate past climatic conditions.