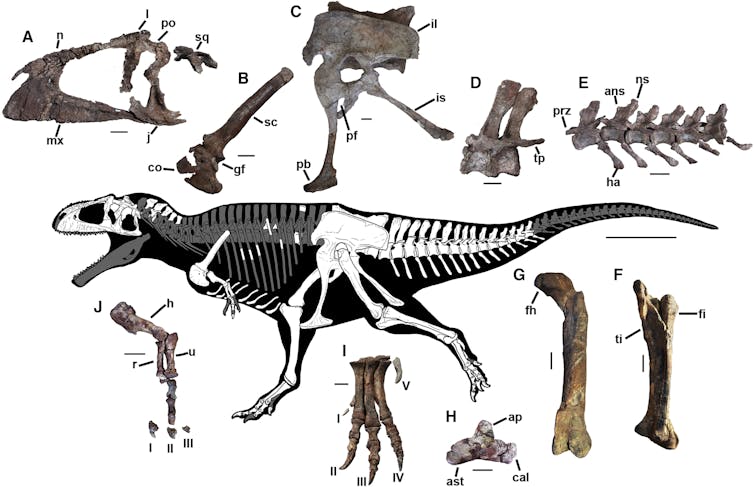 A skeletal diagram of Meraxes gigas, highlighting known bones. (Juan Canale/Ernesto Bachmann Palaeontological Museum), Author provided
The Conversation has a story about the evolution of meat-eating dinosaurs.  Meraxes gigas is a recently named theropod dinosaur from Agentina.  It was found near Villa El Chocon in the Huincul Formation and lived about 95 million years ago.  
Meraxes is a large theropod, the group of bipedal, often meat-eating, dinosaurs which also includes birds, and a member of the Carcharodontosauridae family, making it a relative of dinosaurs like Carcharodontosaurus, Giganotosaurus and Acrocanthosaurus.

The discovered specimen is approximately 11 metres long, and its weight is estimated as approximately 4,200 kg. It has a proportionally large skull featuring a rather fearsome set of teeth, along with long legs and large clawed feet, a powerful tail, and small arms and hands.

Likely a top predator, it co-occurred with other large theropods like Skorpiovenator, alongside large herbivorous sauropod dinosaurs and smaller iguanadontian ornithopod dinosaurs.