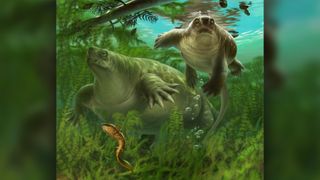 (Image credit: Frederik Spindler)
Live Science has a article about an mammal ancestor.  Lalieudorhynchus gandi lived about 265 million years ago in what is now the Lodève Basin in southern France.  At that time, southern France was part of northeastern Pangaea.  Mammals had not evolved as a group yet. L. gandi was described in a paper in the journal Paleo Vertebrata.
Fossils of the unusual animal were first discovered in 2001 in the Lodève Basin in southern France, by study co-author and paleontologist Jörg Schneider, a professor in the Department of Paleontology and Stratigraphy at the University of Freiberg in Germany, and doctoral candidate Frank Körner. They found two large ribs, each measuring 24 inches (60 centimeters) long, in a rocky streambed. During later visits to the site, Körner found additional bones from the mystery animal: a femur measuring 14 inches (35 cm) long, and a shoulder blade measuring 20 inches (50 cm) long. 

Their analysis has been 20 years in the making, largely because the fossils were encased in concrete-hard sandstone and their preparation took years to complete, the researchers reported in the study.

From this partial but well-preserved skeleton, the paleontologists deduced that the primitive creature was a type of caseid — an extinct group of fossil reptiles that possessed mammalian traits and are thought to be mammal ancestors — in the genus Lalieudorhynchus. Described in the press release as a "chubby lizard" and as a 3.5-meter-long "pile of meat", the creature lived during the Permian, a period that began about 299 million years ago and ended about 252 million years ago with the onset of the Triassic period (and the rise of the dinosaurs).