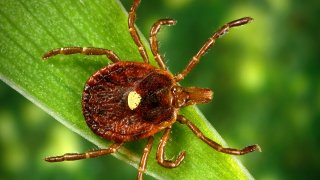 A lone star tick
It may be mid-summer, but the risk of tick bites and tick borne diseases is still among us.  Here are some links to educate yourself against any potential problems.
It's been warm and late spring/early summer is the peak of tick season.  With the nice weather, you will probably be spending more time outside looking for fossils, minerals, etc. in the woods, fields, and quarries.  Or at least, that's what we hope... after all, this is the ESCONI website.  One creature you may encounter is a tick.  Ticks are arthropods, that unfortunately are vectors for a number of serious diseases.  In Illinois, American Dog (Wood), Brown Dog, Lone Star, and Deer ticks are some of the more common species in Illinois.
Get a tick removal tool.  Here's the one I've used.
Another nice kit for removing ticks.
Here are some resources to learn more about avoiding ticks, treating bites, and getting medical attention if you get do come down with any disease symptoms.