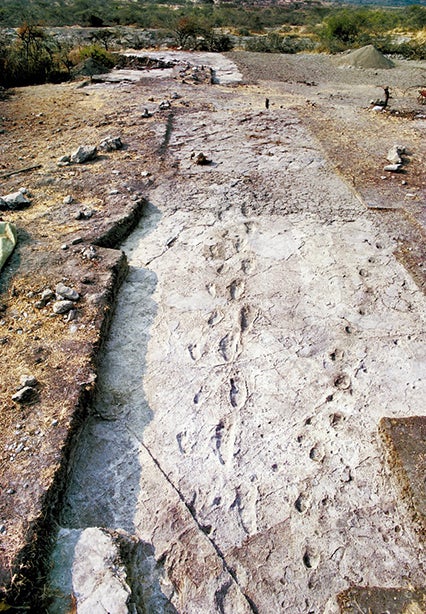 Fossil footprints from Laetoli, Tanzania, show that two different hominin species walked bipedally in this area 3.66 million years ago. The Site G trackway (bottom) is thought to have been made by Australopithecus afarensis. The Site A trackway (top) was made by a different, as yet unidentified hominin. Credit: Jeremy DeSilva (top); John Reader/Science Source (bottom)
Scientific American has a story about the evolution of human bipedalism.  Paleontologists have long wondered when humans stood up and walked on two legs.  There are skeletal adaptions in the fossils of the oldest hominins, which date to as much as seven million years ago.  
In the iconic representation of human evolution, a procession of ancestors starting with a chimplike creature ambling on all fours gives way to a series of ever more erect forebears, culminating in a fully upright Homo sapiens striding triumphantly on two legs. First popularized in the 1960s, the March of Progress, as this image and its variants are known, has decorated countless books, T-shirts, bumper stickers and coffee mugs.

But paleoanthropological discoveries made over the past two decades are forcing scientists to redraw this traditional, linear imagery. We now know that various hominin species living in different environments throughout Africa, sometimes contemporaneously, evolved different ways to walk on two legs. The emergence of bipedalism kicked off a long phase of rampant evolutionary riffing on this form of locomotion. Our modern stride was not predetermined, with each successive ancestor marching closer to a particular end goal (evolution has no plans, after all). Rather it's one of many forms of upright walking that early hominins tried out—and the version that ultimately prevailed.

They didn't want to get hit by a flying lump of elephant poop. Who would? So paleontologists Kay Behrensmeyer and Andrew Hill, who were visiting archaeologist Mary Leakey's fossil site of Laetoli in Tanzania, hopped into a gully to take cover and gather more ammunition for the game of elephant dung dodgeball that had spontaneously broken out. It was July 24, 1976, the day of one of the most serendipitous discoveries in the history of paleoanthropology.

Hill and Behrensmeyer scanned the ground for dung but instead spotted fossilized elephant footprints and raindrop impressions hardened in an exposed layer of volcanic ash that fell 3.66 million years ago. A truce was called in the dung fight, and the others came to marvel at what had been found. Fossils speak broadly about an organism; fossil footprints capture precious snapshots of moments in time for long-extinct animals.