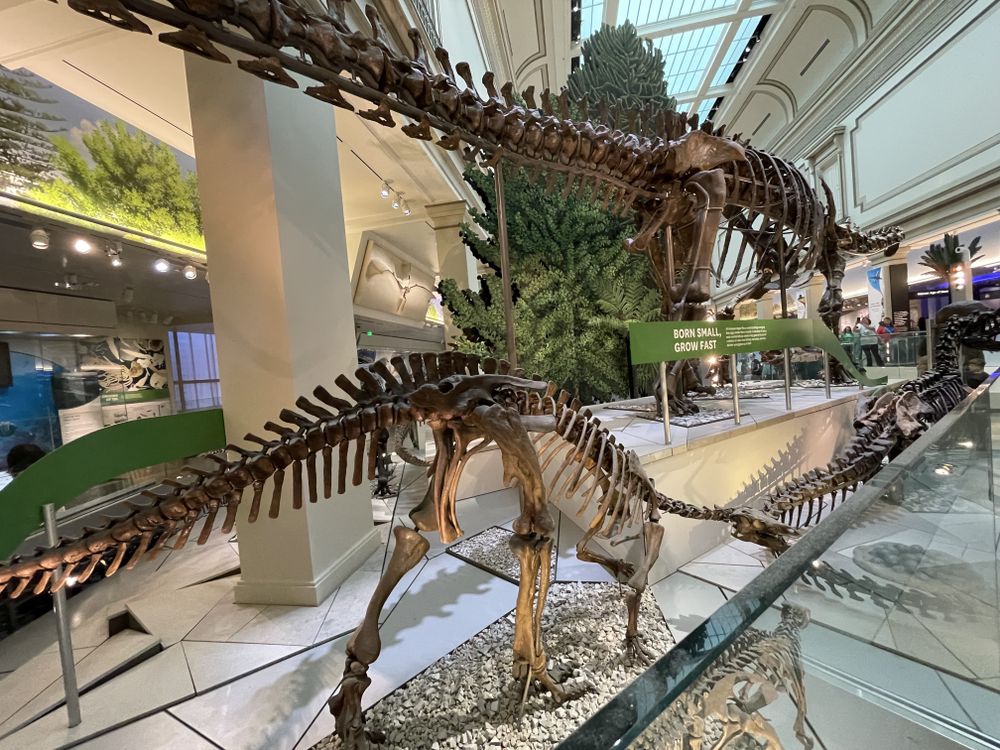 Several of the most prominent dinosaur skeletons in the museum's Deep Time fossil hall, including Camptosaurus (foreground) and Diplodocus (background), exhibit signs of ancient injuries and disease. Jack Tamisiea, NMNH
Smithsonian Magazine has an interesting post about dinosaur injuries.  Not injuries to humans, although getting dinosaur bones out of the ground can be physically challenging, but injuries to dinosaurs evident in their bones long after they have died.  SUE, the T. rex at the Field Museum in Chicago, has numerous bone pathologies including broken ribs, arthritic vertebrae, a fibula that probably suffered from infection, and much more.
Sometimes time doesn't heal all wounds. Between mangled shoulder blades, fused vertebrae and hollowed out hips, several of the National Museum of Natural History's dinosaur specimens still display the signs of diseases and injuries that date back more than 150 million years to the late Jurassic period.

According to paleontologist Matthew Carrano, the museum's curator of Dinosauria, the signs of these ancient traumas are vital clues to what life was like during the Mesozoic. "It's cool to think about how these animals were dealing with pathogens 80 or 100 million years ago," he said.

But pinpointing prehistoric pathologies is no easy feat. Because paleontologists predominantly study fossilized bones, they can only diagnose diseases that leave marks on the animal's bones. This makes it difficult to discover traces of ailments like stomach bugs, pneumonia or soft tissue injuries. And only certain types of clues make it into the fossil record. "It has to be this kind of middle of the road problem where it's not so small that it didn't leave a mark, but it's not so big that it killed the animal before it had time to affect the skeleton," Carrano said.