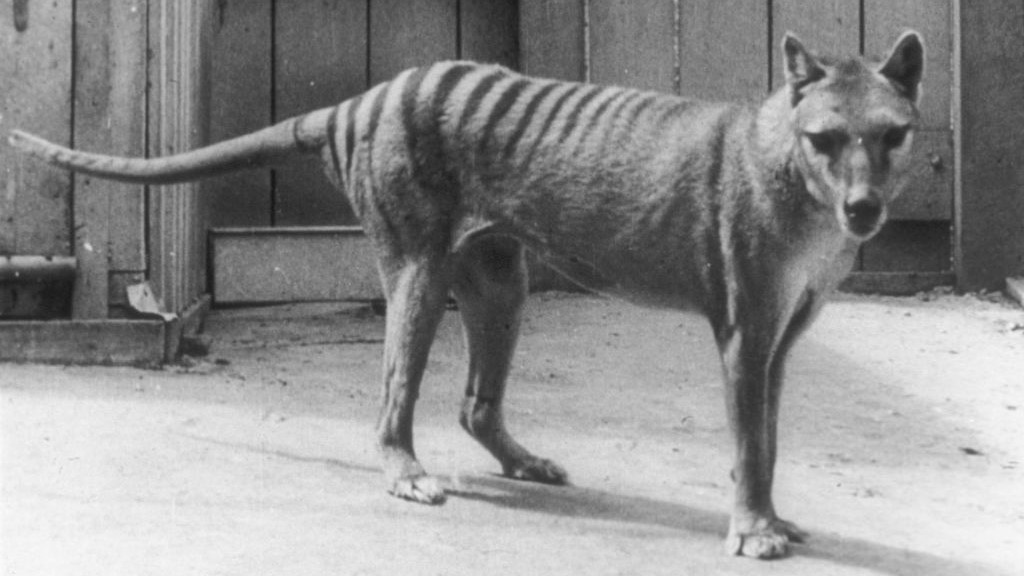 The last known thylacine (Thylacinus cynocephalus) died in captivity at Hobart Zoo, in Tasmania, on Sept. 7, 1936. (Image credit: Dave WATTS / Contributor via Getty Images)
LiveScience has a story about the Tasmanian Tiger.  Some scientists think that the thylacine (Thylacinus cynocephalus) survived much longer in the wild that previously thought.  Thylacines were wolf-like marsupials that lived on the island of Tasmania.  The last known animal died in the Hobart Zoo on September 7th, 1936.  It filled an important ecological niche as the apex predator on Tasmania.  There has much talk of "de-extinction" and the thylacine is considered a prime candidate by some.
But now, scientists say thylacines probably survived in the wild until the 1980s, with a "small chance" they could still be hiding somewhere today. In a study published March 18 in the journal Science of The Total Environment, researchers pored over 1,237 reported thylacine sightings in Tasmania from 1910 onwards.

The team estimated the reliability of these reports and where thylacines could have persisted after 1936. "We used a novel approach to map the geographical pattern of its decline across Tasmania, and to estimate its extinction date after taking account of the many uncertainties," Barry Brook, a professor of environmental sustainability at the University of Tasmania and lead author of the study, told The Australian.

Thylacines may have survived in remote areas until the late 1980s or 1990s, with the earliest date for extinction in the mid-1950s, the researchers suggest. The scientists posit that a few Tasmanian tigers could still be holed up in the state's southwestern wilderness.